Version 1.0
Word Wraps a File with Optional Centering
Copyright © 2022 by David Wincelberg
Description
ZIP File with Install Program
Registering/Buying WordWrapFile

---
WordWrapFile 1.0 word-wraps a text file to the specified number of columns and can center the initial lines of text (until the first blank line).
WordWrapFile requires Windows XP or Windows Server 2003 or later and does not contain any adware or spyware. (Trial period: 15 days. One-time fee: $0.99. Released on 15-July-2022.)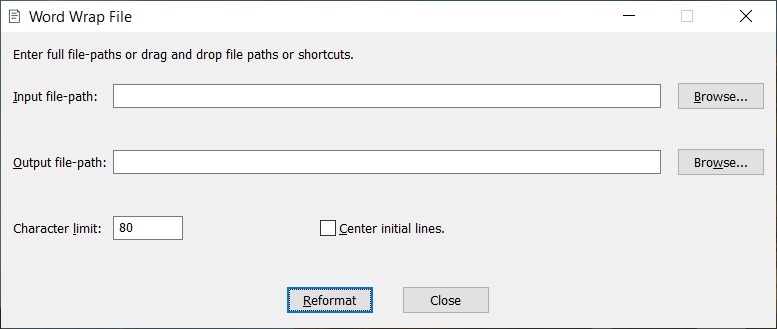 Install package: WordWrapFile1.0.zip (1.55 MB)
Right click on this link, select "Save link as," select a location and click Save. Then unzip this file and run WordWrapFileInstaller1.0.exe to install this program. See here for more information.
back to top
Press the Buy Now button. A PayPal page will open where you can pay by credit card or through your PayPal account. To register multiple copies of WordWrapFile, edit the quantity on this page.
---
david.wincelberg@gmail.com
Return to main page.
Last updated: 28-July-2022