Version 1.8
Filtered Backup
Copyright © 2021 by David Wincelberg
CopyFolder 1.8 is a filtered backup program that copies your files in their original formats. As a result, you can access your copied files without using this program. After using the preview feature to generate a list of files to copy and making any adjustments to this list, you can press the Copy button and then do something else while this program runs. Unless you tell it otherwise, CopyFolder will run unattended after initial validation until it copies all the files it can and presents a summary report.
CopyFolder provides many options for copying the contents of one folder to another. Subfolders can be filtered by paths, names or patterns and may or may not include their subfolders. File names can be filtered by patterns. Files can be filtered by paths, dates, sizes or attributes and may optionally include typos. It has various overwrite and dispose options, including file versions. With an external compare program, text files can be compared before copying to see differences. Files can be compared after copying to verify accurate copying. It can delete destination files that are not in the source folder. It can detect files that may have been moved or renamed. It can copy a folder tree without copying files. It includes a preview feature. It allows defining queues of profiles, which are sets of settings. It uses an adaptive memory area for faster copying of large files. Under certain circumstances, it can copy file-security settings.
CopyFolder requires Windows 98 or NT 4.0, or later. Copying file-security settings requires Windows XP or NT 4.0, or later, and administrator privileges. This shareware program does not contain any adware or spyware. (Trial period: 15 days-of-use or 30 copy-operations within 60 days. Fee: $9.99. Released on 10-Jan-2017.)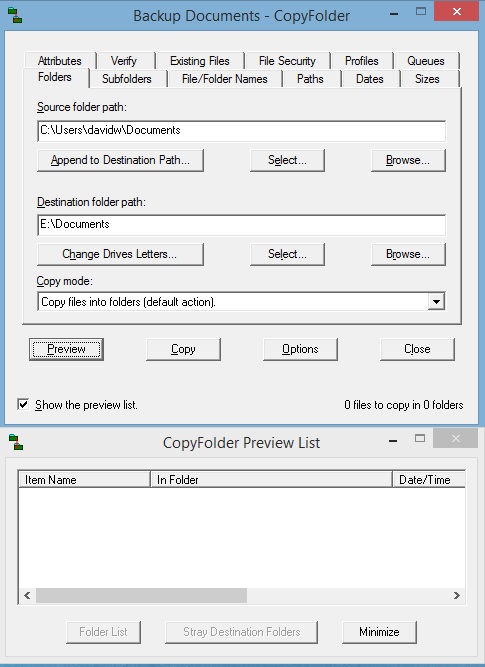 CopyFolder Display
CopyFolder with an installation program
CopyFolder1.8.zip (499 KB, Windows 98 or NT 4.0, or later)
Right click on this link, select the appropriate save option (such as Save Target As or Save Link As), select a location and click Save. Then unzip this file and run CopyFolderInstaller1.8.exe to install this program. See here for more information.
CopyFolder without an installation program
CopyFolder1.8-NoInstall.zip (327 KB, Windows 95 or NT 3.5, or later)
Right click on this link, select the appropriate save option (such as Save Target As or Save Link As), select a location and click Save. Then unzip this file. You may want to create a desktop shortcut to CopyFolder.exe.
As part of the preparation process, I upload CopyFolder.exe and the installation program to be scanned by approximately 50 antivirus programs. Occasionally, there are false-positive reports. Those are reports of viruses in programs that do not have any. In that case, I contact the relevant antivirus companies, when possible, and ask them to fix their products. If your antivirus program reports a virus for either of these programs, contact me or the maker of this program to resolve the problem.
Also, someone e-mailed me that Norton Power Eraser flagged a previous version of the installation program. Since Norton Power Eraser uses aggressive detection techniques, it is more likely than normal antivirus programs to produce false-positive results. Norton Security does not report any problems with the above programs.
Internal bugs will be fixed unless otherwise noted. External bugs will generally not be fixed. Sometimes a workaround can be used. However, there may not be anything that can be done about them since they are not in the program's source code.
Internal Bugs
No known issues.
External Bugs
Issue
Workarounds
If an item in the preview list ends in ellipses (...), resting the mouse pointer on it does not always result in a screen tip that shows the rest of the text (until the right end of you computer monitor).
From the Preview page of the Options window, select adjusting column widths to fit content.
When you open a file from the preview list and then try to close the corresponding program, there may be a delay before it closes.
Either wait for this program to close or use Task Manager to close it.

Use the preview-list Open With command and select this program. Initially, you will need to add it to the list of available programs.

Open this program and drag-and-drop the file from the preview list onto its title bar.

Check if there is a newer version of this program that is suitable for your computer and does not have this problem.

There may be some catching-up time after copying many files to a USB drive. This may result in CopyFolder being unresponsive for several seconds.
Wait for the light on the USB drive to stop flashing.
Reporting Bugs
If you find of any other issues with CopyFolder, please contact me. (See below for my e-mail address.) Please include the following:
the steps to take to reproduce the problem
what you expected to happen
what actually happened
I might not be processing registrations between April 5 and 13, 2023.
Gather Your Registration Code
Click the Options button, click on the Registration tab, and copy the displayed registration code by pressing the "Copy to Clipboard" button.
Pay by Credit Card or Through Your PayPal Account
Paste this code into the text field below and then press the Buy Now button. A PayPal page will open where you can pay by credit card or through your PayPal account. After you do so and I receive notice of your payment and this code, I will send you a thank-you e-mail message with the corresponding activation code. (If I receive notice of your payment without this registration code, I will e-mail you for it.) You can register multiple copies of CopyFolder with the form below — just enter the registration codes separated by spaces, press the Buy Now button, edit the quantity on the PayPal page to match the number of registration codes and click on the Update link before paying through PayPal.
The next version is expected to be freemium product, which is a combination of a free and a premium product. The premium version is expected to include all upgrades but will not be transferrable.
Processing registrations is a manual process. There will be delays due to waiting for PayPal to notify me of a payment, my generating an activation code, my sending it to you, and your receiving it.
Activate Your Program
Enter this activation code into the corresponding field of the Registration page and press Apply or OK to register your copy of this program.
CopyFolder.exe (704 KB, Windows 98 or NT 4.0, or later)
Right click on this link, select the appropriate save option (such as Save Target As or Save Link As), select a location, such as the Desktop, and click Save. This version of CopyFolder has gripper images in the lower right corners of resizable windows.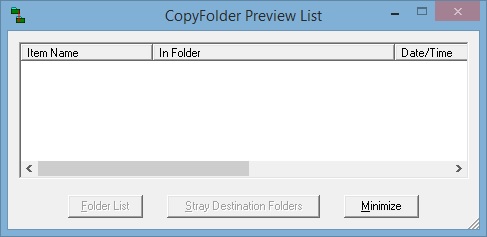 If you have suggestions for improving CopyFolder, please send them to me at the e-mail address below.
---
david.wincelberg@gmail.com
Return to main page.
Last updated: 3-Dec-2021